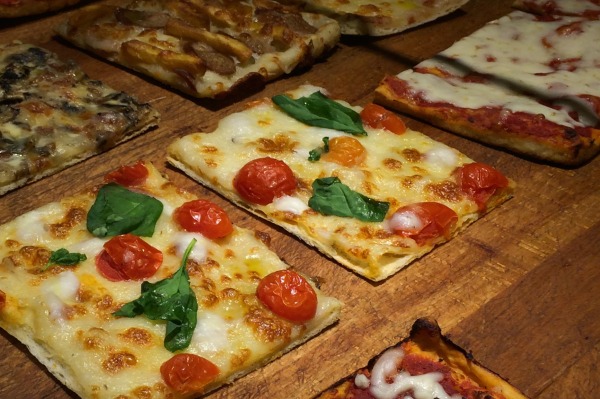 20 Jul

Street food in Rome not to be missed # 1 – Pizza

Are you in Rome only for a couple of days with a long list of attractions to visit and don't want to miss a moment? Or do you simply want to experience some of the local best street food in Rome?

Here is a list of some of my favorite places that can satisfy all tastes, from the classic pizza by the slice to the trendiest supplì versions! In this first post, I am going to start with an Italian must-eat: Pizza!

Among the most popular street food in Rome is the Pizza al Taglio, where taglio means "by the cut". It is baked in large rectangular trays you can see at the counter.

You will find plenty of pizzerie al taglio close to the main attractions. Do not expect air conditioning, comfortable seats or WiFi. They're more like shops and the best are usually small places where you will find no seats at all. But when in Rome do (and eat) like the Romans do. You will enjoy your hot and crispy slice standing by the counter or will take away your iconic pizza.

Being said that there are different versions of pizza dough, more or less thick or crispy, overall the pizza slice you get at the pizzerie al taglio is a little thicker than the pizza you can find at a restaurant or proper pizzeria.

You will have to choose among the various flavors, such as the classic Margherita, with tomato and mozzarella, or sliced zucchini, ham and mozzarella, indicate how much you want and then it will be weighed and priced for you.
My favourite places for street food in Rome: pizzerie al taglio
Finally, some of my favorite places for street food in Rome and pizza al taglio (in no particular order of preference) are:
1) Antico Forno – Campo dei Fiori. A real institution, always busy but with quick turnover. Located on the short side of this popular square in downtown Rome, a classic here is the plain "pizza bianca", white pizza, topped only with olive oil and salt, or "pizza rossa" (red pizza), with tomato sauce. This place is a true bakery so you will find every day fresh bread and different types of biscotti and ciambelline! Rome, Campo dei Fiori 22. Open Mon-Sat 07.30-2.30; 4.45 pm-8 pm. Closed on SAT afternoons during JULY and AUGUST
2) Pizzeria da Pasquale. This place has enough room and some places to sit down. They offer a wide selection of food, not only pizza, but also sandwiches, and a few dishes of pasta. My favorite flavor here is the pizza with potatoes and mozzarella! Yummy! Rome, Via dei Prefetti 34 a). Open Mon-Sat 10 am-noon; 4 pm – 9 pm.
3) CasaManco is a stall located at the famous market of Testaccio. A good chance to visit an authentic indoor food market in Rome. You can even sample the various pizzas. Very tasty pizza (they use several flours in the mix) and English-speaking staff. I love their pizza with zucchini blossoms, anchovies and "stracciatella" cheese. Rome, Nuovo Mercato di Testaccio, Via Aldo Manuzio, 66 c). Open Mon-Sat 10 am -3 pm
4) Pizzarium Bonci is a super famous place, not too far from the Vatican, near Cipro metro station. Here the pizza is a little thicker with a large variety of creative toppings. Try to taste as many as you can. Love their Margherita. Pizzarium has a also wide range of regional beers. Rome, Via della Meloria 43. Open Mon-Sun 11 am -10 pm
5) If you are in the lovely area of Tastevere, La Boccaccia is a nice place for a quick lunch with a local feel. Lots of choices, very good quality. Among my favorites: white pizza filled with ham and mozzarella. Rome, Via di Santa Dorotea, 2. Open Mon-Sun 10 am -11 pm
6) Again near the Vatican Museum, a family run bakery, Panificio Mosca, has delicious types of bread and pizza. The focaccia is very popular. Go early to avoid the local crowds going to get their fresh bread. Rome, Via Candia, 16. Open Mon-Sat 8-2 pm; 4 pm-8 pm
We can stop by at some of Rome's famous pizzerie al taglio on the Downtown Rome Tour. Find out more here: https://www.seeromewithme.com/downtown-rome-tour/