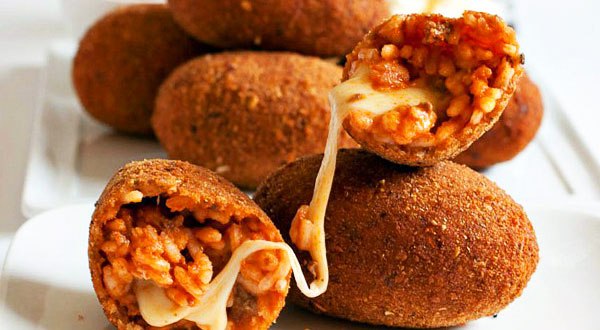 03 Aug

Street food in Rome not to be missed # 2 – Supplì

Along with pizza al taglio (pizza by the slice), the king of street food in Rome is the supplì. It is native to Rome and definitely less known than it should be but it's a must-try!

The name comes from the French word 'surprise', as the French soldiers called the fried treat during the occupation at the end of the 1700s because of the melted mozzarella filling. Surprise then became in Italian "supplì".

In its classic version, it is an elongated ball of rice, mixed with ragù (tomato sauce with minced beef), mozzarella cheese, dipped in raw egg then coated in breadcrumbs and fried in hot oil. I remember when I was a child my mother used to make supplì for dinner with leftovers from "risotto".

Originally though the filling was made with chicken giblets as it was a poor dish sold by vendors in the streets.

Today you can buy this delicacy of Rome's street food at most of the "pizzerie al taglio" or have them at more casual restaurants. You can have them as starters before a pizza or a main course.

They are absolutely not to be confused with the Sicilian "arancini" or "arancine" (masculine or feminine from arancia, orange, depending on what part of Sicily you are). These are bigger, have different shapes and different fillings.

Of course, supplì are best when they are fresh and have just been fried. Today you can find new takes on suppli with many creative fillings, but I must confess… I am a purist when it comes to street food in Rome and always prefer the classic version of the supplì, even if I like to taste also new versions.
My top 5 Places for supplì
Here is then my top 5 places for supplì and street food in Rome (in no particular order of preference). I have unfortunately omitted to mention the many shops or groceries that are not exactly in the city center or more difficult to reach.
1) If you are in the neighborhood of Trastevere, stop by Supplì, also known as Venanzio, Sisini, I Supplì. Excellent quality and very reasonable price. Quite busy at lunchtime but the line to get your hot crispy supplì is well worth it when you taste this treat! They also sell other versions such as the matriciana, named after the typical Roman pasta with tomato sauce, pecorino cheese and guanciale (pork cheek). Rome, Via di S. Francesco a Ripa, 137. Open Mon-Sat: 10 am – 10 pm.
2) I love San Giovanni. I used to live in this neighborhood and I think it's a great area if you are in search for accommodation during your Roman vacation. If you are here, La casa del supplì, the house of supplì, is my recommendation for you. Also very good pizza by the way. Rome, Piazza Re di Roma, 20. Open Mon-Sat: 10.30 am – 9.30 pm.
3) Supplizio, in the city center, is the first street food corner by the chef Arcangelo Dandini. Here you can find various versions of the supplì, not only the classic but also carbonara (named after another typical Roman pasta), cheese and pepper and more. I love the cozy vintage atmosphere, with the terracotta floor and the leather armchair. Rome, Via dei Banchi Vecchi, 143. Open Mon-Sat: 11.30 am –4 pm and 4.30 pm– 10 pm.
4) I have already mentioned Pizzarium, run by Gabriele Bonci, pizza chef and gourmet, in the previous entry on street food as a good place for pizza by the slice. Well… I simply ove their supplì as well! Rome, Via della Meloria 43. Open Mon-Sat: 11 am – 11 pm; Sun: noon – 10 pm.
5) Franchi is a small café/deli near the Vatican. Always busy with locals, particularly at lunchtime. Good place for a quick bite on your way to the Vatican Museums. Among the several dishes of pasta, they offer also great supplì. Rome, Via Cola di Rienzo 200. Open Mon–Sun: 7.30 am – 9.00 pm.
We can stop at Supplì in Trastevere during the tour of Villa Farnesina and Trastevere