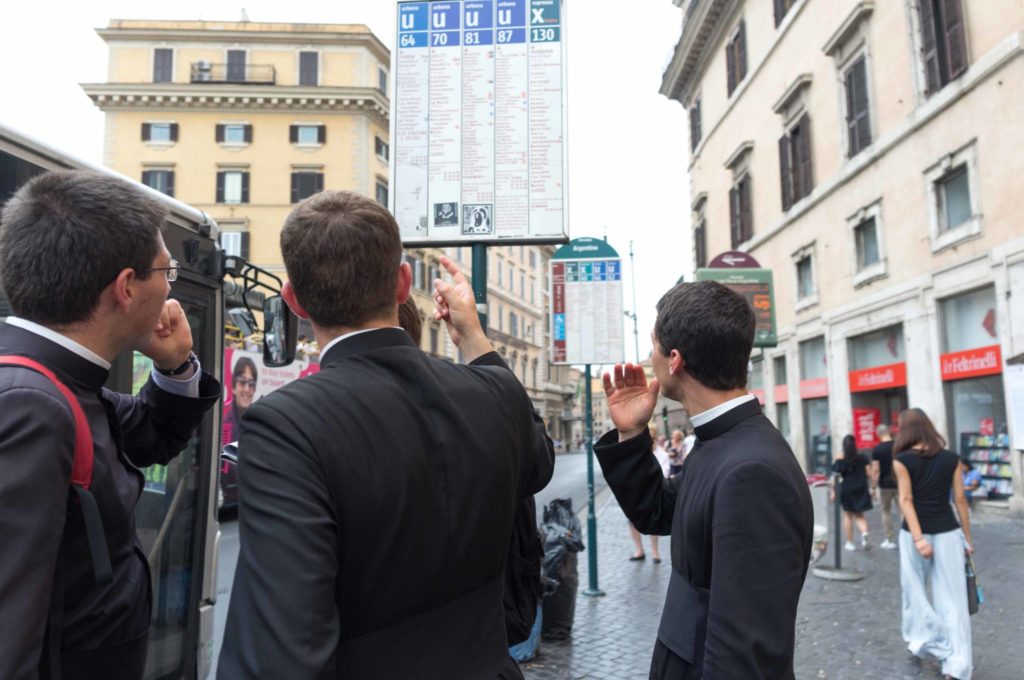 17 May

Public transportation in Rome

You've finally reached your hotel in Rome and had a few hours of sleep, so you're ready to roll and start exploring the city. Here you can find some information and tips regarding public transportation in Rome

Rome is a city with nearly 3 million inhabitants and a territory of more than 1,000 square meters, offering residents and visitors metros, buses, trams and urban railways.
Tickets for Rome's public transportation
The same type of ticket (BIT) can be used for trams, buses, and the metro. You can use the exact same ticket for the cost is 1.5 € per ride. This ticket is valid for 100 minutes from its first validation. If you change the mode of transportation within the 100-minute time frame (from bus to metro, for example), the ticket has to be validated again. You can also buy daily tickets (7 €), 48- hr (12,50 €) or 72-hr (18 €) passes. Tickets for public transportation can be purchased at metro stations, newspaper stands, most tobacco stores, and even via SMS. You may also consider buying a card on the website of ATAC: https://www.atac.roma.it/en/tickets-and-passes/request-and-charge-online
Metro, buses and railways of Rome
There are 4 main metro lines in Rome: A, B, B1, and C but you'll mostly need A and B (the red and blue line) to explore central Rome. The closest metro stations to central Rome are Barberini and Spagna. The closest metro stations to the Vatican Museums are Ottaviano and Cipro. At the moment (Jan 2023) there are ongoing works on the A-line, so these trains run until 9 PM from Sunday to Thursday. On these days buses will cover this service on the entire A-line. On Fridays and Saturdays instead, trains are regularly running till 1.30 AM.
On the Metro, the BIT is valid for a single journey but using the same ticket and passing through the turnstiles is allowed to change between lines A and C.
There are 4 types of buses in Rome that you can identify by the letters at the bus stop sign: Urban Lines (U), Express (X), Exact (E) and Night Buses (N). The Express bus is usually green and doesn't make all the stops as the Urban line, as it connects central Rome to its outskirts. Night buses run every 30 minutes from half past midnight till 5.30 AM and the main stops are in central Rome, Piazza Venezia and Termini Station.
All in all, the fastest way to move around Rome is the Metro as traffic can be quite heavy in central Rome during peak hours. Also, finding a hotel in some place where you can easily get around by walking (or by Metro) is a great idea to save time and money. Check out my other entry on some of the nicest areas of Rome for accommodation:
https://www.seeromewithme.com/2015/08/17/best-neighborhood-in-rome/
There are 6 lines of trams that are good to reach the outskirts of Roma and Trastevere (from Piazza Venezia), which is the lovely area located on the west bank of the river. There is no metro station in Trastevere. You may otherwise walk to Trastevere, crossing the bridge over the Tiber at the Isola Tiberina (Tiber Island), or take tram n. 8 from central Rome.
Here you can download and print out a free map of central Rome with metro stations, bus numbers and routes:
https://www.atac.roma.it/docs/default-source/mappe-tpl/mappa-roma-centro.pdf?sfvrsn=68cf7dc5_14
Finally, Rome has 8 railways, named FL1-FL8, mostly used by people who commute to the outskirts and the Roma-Lido railway. This latter is very convenient if you are interested in taking a train to reach Ostia Antica, to visit the archaeological site of Rome's ancient city port, or spend a day at the closest beach to Rome. In this case, you can take the train at San Paolo station. The FL2 will allow you instead to reach the city of Tivoli, where you can visit the marvelous Renaissance Villa d'Este and the II century villa of Emperor Hadrian.
For a private tour of Ostia Antica, find out more here:
https://www.seeromewithme.com/portfolio_page/ostia-antica-tour/
If you're brave enough and want to try the ultimate Roman experience, you may rent a Vespa or a motorbike at different places, but traffic is really bad in Rome. Romans don't have much patience with beginners and you must be very careful! And finally, multiple e-Bikes, bikes and scooters are available for rental at various places in Rome.