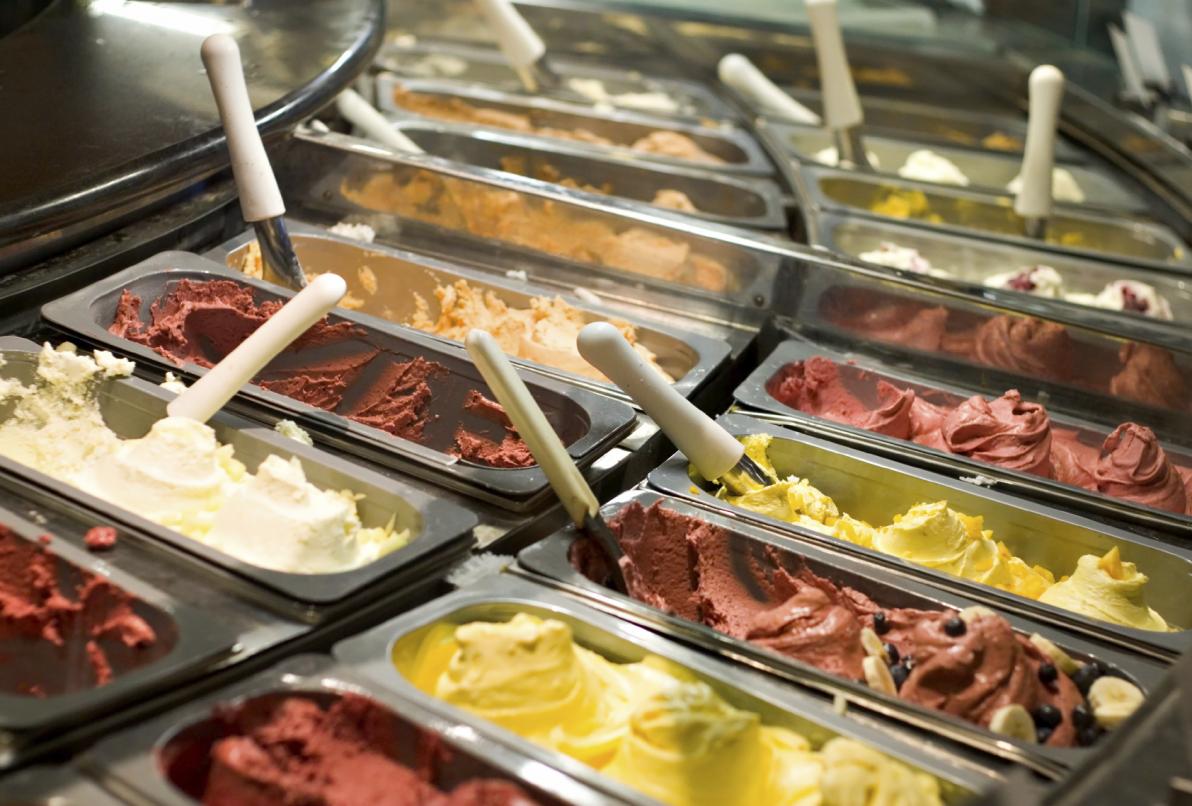 08 Jul

My top 5 places for gelato in Rome
Where is the best gelato in Rome?
First of all, let me start by saying that I can eat gelato or ice cream any time, any season. Also, I happen to live near a very good gelateria (gelato shop), which is difficult to avoid when heading home after a hot day at the Colosseum.
After all one cannot come to Italy without trying some good gelato, especially during summertime. So here comes a list of some of my top 5 places for gelato in Rome (city center.)
Ice cream or gelato?
When we talk we use the word ice cream and gelato interchangeably but they are 2 different things:
Ice cream is a frozen dairy dessert made of cream, milk, sugar, and typically egg yolks. The ingredients in ice cream are first cooked together into a rich custard. After the custard base is cooled, it's churned at high speed to increase its volume and incorporate air. Ice cream is served at a quite cold temperature that makes scoops hold together.
Gelato is the Italian word for ice cream, literally meaning "frozen". It has a long history, being created at the court of the Medici family in Florenceby the alchemist Cosimo Ruggieri, who developed the first flavor called fior di latte, based on milk. Then, in 1686, the Sicilian Francesco Procopio Cutò opened the Café Le Procope in Paris. Since then, gelato became internationally known. It starts out with a similar custard base as ice cream but has a higher percentage of milk and a lower proportion of eggs and cream or no eggs at all. Gelato is churned at a much slower rate, incorporating less air that leaves it denser than ice cream. Besides this, gelato has a lower percentage of fat than ice cream. Yes!
Besides these technical details, more importantly to me is the fact that I appreciate gelaterie that use fresh and in season ingredients: I do not expect to find flavors like fig or peach at my favorite gelateria during the month march. Remember that you can always ask to top your ice cream with whipped cream! The price as always changes depending on the size of the cone/cup and number of flavors.
My top 5 list for gelato places (in no particular order of preference)
Fior di Luna in the lovely neighborough of Trastevere. Do not miss it during your walk in Trastevere, as it is a small shop but has a yellow sign outside. Favorite flavor: fig and chocolate. Open every day from 11.30 am to 11 pm. Roma, via della Lungaretta 96.
Gunther Gelato. They have 3 different shops in downtown Rome: one near the Pantheon, one closer to the Spanish Steps and one in Campo dei Fiori. I normally stop by the one near the Pantheon in Piazza S. Eustachio. Amazing choice of chocolates but my favorite flavors here are hazelnut and pistachio. Open every day from 10 am to 1 am. Rome, Piazza S. Eustachio 47.
Hedera, near the Basilica of Saint Peter in the charming district called Borgo Pio, it is a refreshing stop after a Vatican tour. The name comes from latin ivy as the shop has a nice "curtain" of ivy on the outside. Favorite flavors: melon, strawberry. Open every day from 11 am to 11 pm. Rome, Borgo Pio 179.
Come il latte (literally "like milk") in the Pinciano district, close to Via Veneto, they also make their own waffle cones. Ask to top (or fill) the ice cream with melted chocolate (white or black). They have lots of unusual and interesting flavors. Favorite flavor: salted caramel. Open every day from noon to midnight (but it closes a little earlier on Sunday). Rome, Via Silvio Spaventa 24-26.
Gelato Paolessi. A famous brand from the city of Cisterna di Latina, they opened 3 new shops in Rome in 2017. One is located close to the church of Santa Maria Maggiore (great excuse to visit also this amazing church and see its exquisite mosaics). My favorite flavor: lemon. Open every day from 11 am to 11.30 pm. Rome, Via di Santa Maria Maggiore, 110.
I never say no to a stop for a gelato on my Downtown Rome Tour. Find out more here: https://www.seeromewithme.com/downtown-rome-tour/